I've had Screech in my cabinet for I-don't-know-how-many years. I've replenished it regularly, and now I'm told that it doesn't sell well enough for the Yukon Liquor Corp to keep stocking it.
What? Am I the only one who drinks the stuff? Where have all the Newfoundlanders gone? There used to be lots of them here.
I'm only 77 (and a half) years old, so I wasn't around for the salt-fish-for-rum trade, two- or three-hundred years ago. But I am old enough to have had Screech when it was a Demerara rum, and then the Jamaican version. The current version does not show a source other than "Caribbean," but it tastes the same here as it does in Newfoundland. Which is pretty damn good. And it comes in civilized quantities. They used to be known as forty pounders, as I recall.
Here's the company it keeps in my cabinet: 51 of them if you include one Rhum Agricole and two Cachaças.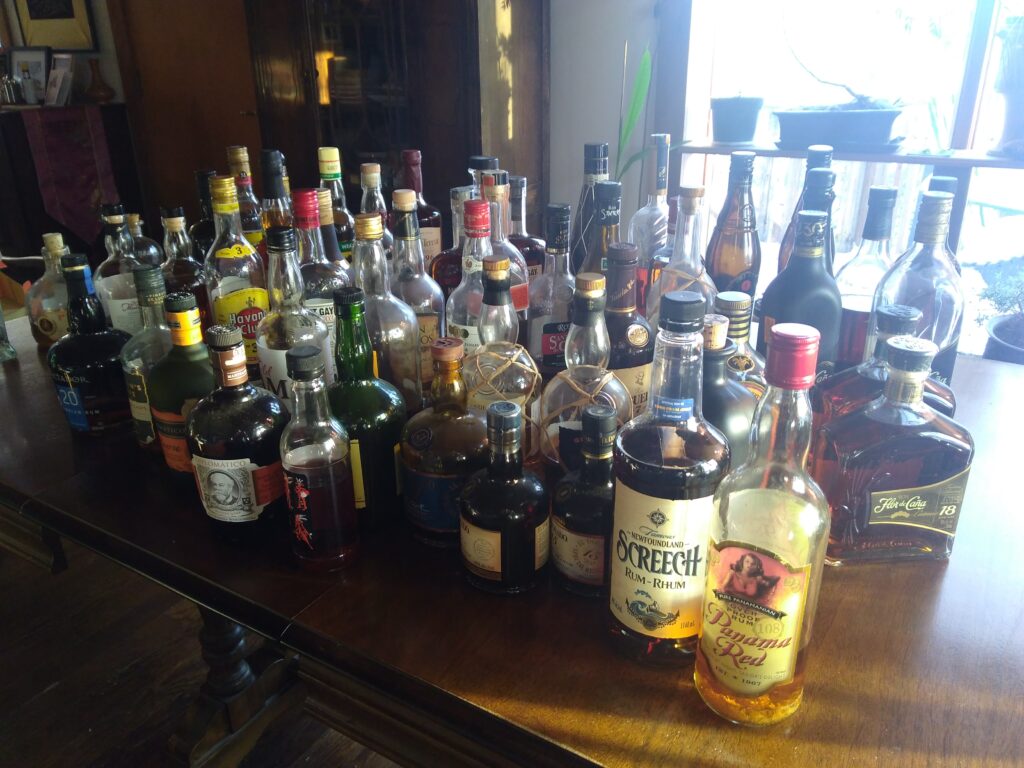 There was a time, apparently, when staff at the store could take a risk and bring in something they thought might sell. Wray & Nephew's White Overproof rum was one. Bought one, tried it and went back for another and it was gone! A year later, it's back and I'm glad.
Then there was Ron Perla del Norte, a really nice Cuban rum that I was quick enough to catch before it disappeared. Am I doomed to enjoying stuff that just doesn't sell?
It happened with my favourite Shiraz, too. Hmmm …
A word to the wise: If you have a favourite libation, watch out for a little red dot on the price tag beneath. That means that once it's gone, it's gone. End of story.
Speaking of stories, there's one at the liquor store about Fiji rum.
It seems there had been a rum-tasting event (to which I had not been invited because I didn't hear about it, dammit) and that some rare and expensive rums were brought in. Shortly thereafter, two bottles of Fiji appeared on the shelf at a price of over $300 each. Santa did not read my letter that year and these two bottles languished on the shelf for a month or more, with me lusting after one the entire time.
Then, one day, there was only one!
The story is that someone with a shopping cart full of good spirits went through the checkout and the scanner beeped, but the rum didn't register on the bill.
Even if it turned out to be free, the fact that there was a $300 bottle in the cart shows a certain level of commitment, don't you think?
Well, I drooled over the remaining bottle for another month or so and it suddenly came on sale: "only" $160. It didn't take very long (about 30 seconds, actually) to rationalize my upcoming significant birthday and this fine birthday present.
Not all the disappearances are unwelcome, though. A product (theoretically classed as a rum) labelled "Zaya" was an absolute dead ringer for vanilla extract. Put it in your chocolate cake batter and you wouldn't notice any difference. It was like buying vanilla extract in bulk, except, as I recall, there was no actual cash saving.
Taken neat, it left a cloying flavour that affected the next thing you put in your mouth—and anything else for the rest of the day. The only thing you could mix it with was—you guessed it—chocolate cake. We really like chocolate cakes, which is why you won't see Zaya in my cabinet anymore. We're back to buying vanilla.
It just occurred to me that, in the days before off-sales, folks needing a drink outside of store hours would buy vanilla extract. Maybe that's where the idea of Zaya came from. Maybe someone at the board level in the company thought we really liked vanilla extract. Who knows.
And, a week or so ago, I found an orphan—a single bottle of Bayou, purportedly a white rum from Louisiana. It tastes like white table sugar and ethanol. Don't bother bringing that one back, YLC.
I forget where I found Panama Red. Probably not at the Whitehorse Liquor Store. I might have found it in Calgary at YYC, the Calgary International Airport. There's a liquor store there inside Security. You don't have to put your booze into your checked baggage; you can put it in your carry-on. But, I digress.
People of a certain age and background will recognize the name. Yup. Marijuana.
Pre-legalization, there was a segment (on a cooking show) about marijuana in the kitchen. Apparently, besides smoking it, alcohol liberates the THC. So what was the chef using in her cooking? Panama Red Rum. Another one that tastes strongly of vanilla.
Shortly thereafter, a friend gave me a few cannabis seeds from her uncle's medicinal dope farm.
They produced very pretty plants. But there's a reason it's sometimes called "skunk." By the time I realized that, they had some nice little buds coming. So I nipped off the buds and put 'em in the Panama Red and chucked the plants. I haven't used any pot that isn't porcelain (heh heh) or metal, for over 50 years, and I'm just a wee bit cautious about trying this concoction now.
So, on Friday I was finally confronted with an empty spot where Screech usually sat.
"Ah, it's okay. We kinda knew you'd be in today." And from the nether regions of the store came … the last two bottles of Screech.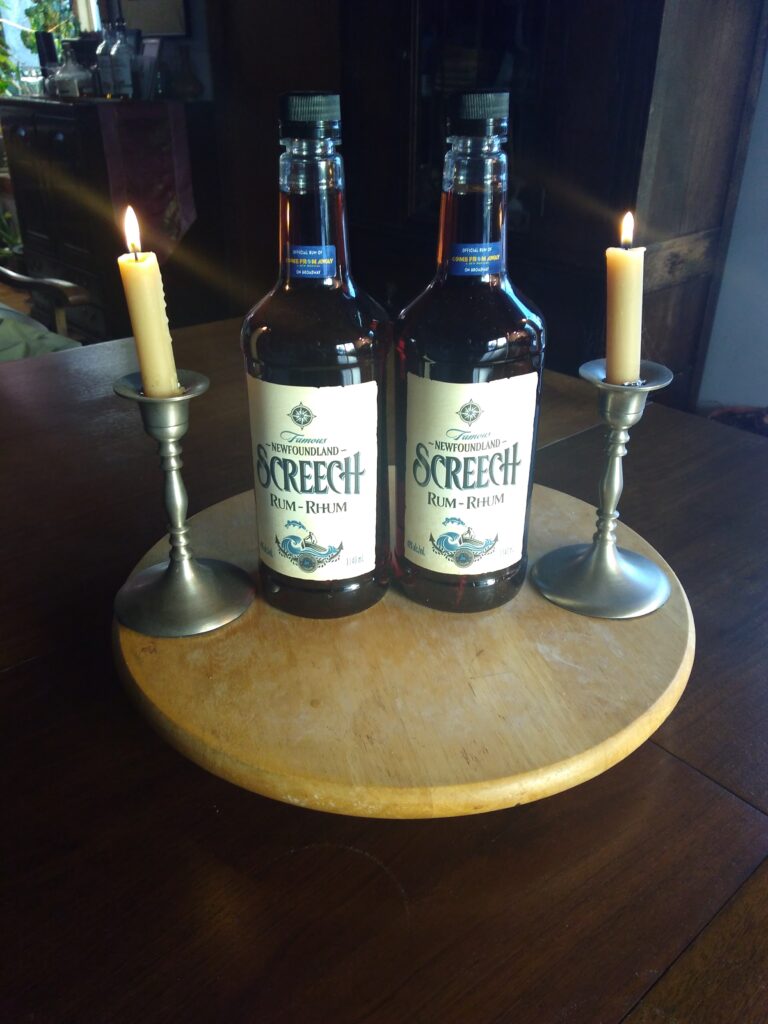 Thanks, folks!